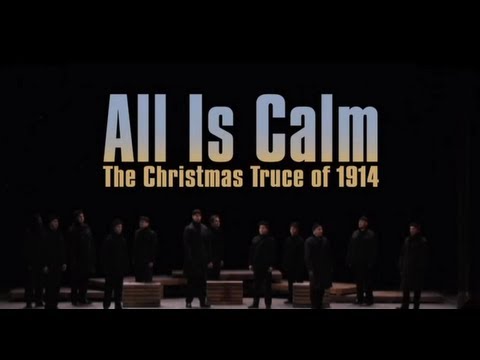 Cuando:
diciembre 7, 2018 a las 7:00 pm – diciembre 9, 2018 a las 8:00 pm
America/Los Angeles Zona Horaria
2018-12-07T19:00:00-08:00
2018-12-09T20:00:00-08:00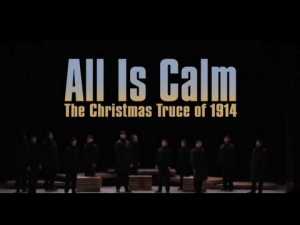 Choral opera tells story of unofficial Christmas truce of WWI when soldiers entered no-man's land to celebrate the holidays 
Family-friendly production told through Christmas carols, patriotic songs, and letters from soldiers
The December 8 performance will air live on KPBS TV at 7 PM
A co-production with Bodhi Tree Concerts and SACRA/PROFANA
San Diego Opera is proud to join Bodhi Tree Concerts and SACRA/PROFANA to present the choral opera All Is Calm: The Christmas Truce of 1914 at the Balboa Theatre. All Is Calm has three performances only, December 7, 8, and 9, 2018. This family-friendly acapella opera tells the story of the Christmas truce of 1914, when soldiers from France, the United Kingdoms, and Germany ventured from their trenches into no-man's land to share food and exchange gifts on or around the Christmas holiday. The break in the fighting allowed the sides to bury their dead, and games of soccer were played between the soldiers. Most interactions ended with the singing of Christmas carols and fighting resumed the next day, continuing for nearly four years.
Created by Theater Latté Da's artistic director, Peter Rothstein, with musical arrangements by Erick Lichte and Timothy C. Takach, All Is Calm is a retelling of firsthand accounts of this truce and uses Christmas carols, patriotic tunes, trench songs, and spoken text from the letters of soldiers. Told through the unparalleled medium of the human voice, All Is Calm explores the universal desire for humanity, peace, and comradery, and how we can come together as one despite our profound differences.
The ensemble cast of male voices include tenors Jon Keenan, Chad Frisque, Alexis Alfaro, Timothy Simpson, Bernardo Bermudez, Daniel Moyer, Victor Morris; baritones Michael Sokol, Anthony Whitson-Martini, Andrew Konopak, Jonathan Nussman, Matthew Fallesen; and basses Shelby Condray, Joshua Arky, Walter DuMelle, and Christopher Stevens. SACRA/PROFANA Artistic Director Juan Carlos Acosta conducts the performances and Alan E. Hicks, the new Director of Opera Theatre, a jointly held position between San Diego State University and San Diego Opera, will make his Company directing debut with these performances. Strengthening the relationship between SDSU and San Diego Opera, the Company has hired costume designer Denitsa Bliznakova to design the costumes and lighting designer Anne E. McMills to light the proceedings. Denitsa is a professor at the School of Theatre, TV and Film at SDSU and is the Head of the M.F.A. Design and Technology. Anne is the Head of Lighting Design at SDSU. San Diego Opera's Tim Wallace is the set designer. The dialect coach is Vanessa Dinning.
All Is Calm will be broadcast live on KPBS2 on Saturday, December 8, 2018 at 7 PM. KPBS 2 (15.2, Cox 811, Spectrum 1277). After the live broadcast, viewers will be able to watch All Is Calm online at www.kpbs.org.
These are first performances of All Is Calm presented by San Diego Opera but the Company has been a co-producer for two previous productions of the work led by Bodhi Tree Concerts and SACRA/PROFANA, in 2017 and 2016. This is a new production built and owned by San Diego Opera.
About Bodhi Tree Concerts
Now in its seventh season, Bodhi Tree Concerts performs random acts of kindness by presenting music events, donating 100 percent of its profits to charitable causes. The group hires exclusively local artists, to inspire community engagement, philanthropy, and enlightenment through music. The organization has already presented more than 30 concerts and donated more than $25,000 to over 30 charitable organizations including Mama's Kitchen, Voices for Children, Erase Poverty, and Foundation for Women, just to name a few. Bodhi Tree Concerts won a coveted San Diego Bravo Award in 2013, a Best of Fringe Award in 2014, a Best of 2014 and 2015 from SanDiegoStory.com, a Critics Choice Award in 2015 for its SD Premiere of «Tears of the Knife,» and most recently a Best of Fest and Best Male Performer in an Opera or Musical: San Diego International Fringe Festival and a Craig Noel Award for Best Special Event for the San Diego premiere of «8 Songs for a Mad King.»
About SACRA/PROFANA
SACRA/PROFANA strives to awaken and nurture enthusiasm for the choral art through vibrant performances and focused education outreach. SACRA/PROFANA has accomplished remarkable things in just 10 years including numerous world and U.S. premieres and collaborations with leading regional arts organizations: San Diego Symphony, Art of Elan, San Diego Opera, California Ballet, and many more. SACRA/PROFANA also has performed with many artists of worldwide renown, including the legendary Irish band the Chieftains, producer Carlton Cuse (of ABC's hit show Lost), composer Michael Giacchino (Star Trek), and composer Alan Menken and lyricist Stephen Schwartz in the development of Disney Theatrical's The Hunchback of Notre Dame at La Jolla Playhouse. After a successful first nine years, we are poised for a strong and notable 10th Anniversary Season.
Production support for All Is Calm is provided by Sigrid Pate.
Select Creative Team Bios
Juan Carlos Acosta, Conductor
Juan Carlos Acosta made his solo debut as a tenor with the company as Parpignol in La Boheme in 2005 and has been involved in nearly a dozen productions with the company over the last fifteen years. In addition to conducting two previous productions of All Is Calm, maestro Acosta has also recently conducted Amahl and the Night Visitors, Brahms Requiem, Bach's Magnificatand Wachet Auf, Haydn's Lord Nelson Mass, Respighi's Lauda per La Natividad, Handel's Messiah,  and selections from Orff's Carmina Burana. As Artistic Director of SACRA/PROFANA, Juan Carlos has been recognized nationally for his programming, and has received critical acclaim for performances of contemporary composers. Acosta has prepared the group for notable performances with Art of Élan and the San Diego Symphony, including the world premiere of «Star Trek: Beyond» with a score by Michael Giacchino. Juan Carlos serves as Director of Music Ministries at the Village Presbyterian Church in Rancho Santa Fe.
Alan E. Hicks, Director
San Diego Opera directing debut. American stage director Alan E. Hicks is the first Director of Opera Theatre, a year-round shared position between San Diego Opera and San Diego State University. He has spent the past two decades in professional opera and theatre, first as a singer, then a teacher, finally turning his attention to stage direction. He has directed productions for organizations throughout the United States and in Europe including Minnesota Opera, Palm Beach Opera, Tulsa Opera, Opera Santa Barbara, Miami Music Festival, Green Mountain Opera Festival, Saint Paul Chamber Orchestra, Franco-American Vocal Academy in Salzburg, Shenandoah Conservatory, the University of Texas at Austin, and the University of Iowa. Alan has also served on the directing and production staffs of Central City Opera, Chautauqua Opera, Florida Grand Opera, Lyric Opera of Chicago, Michigan Opera Theatre, New York City Opera, Seattle Opera, and Tulsa Opera. In 2013, he was appointed Director of the Emerging Artist Program at Green Mountain Opera Festival, a position he held until the company's closing in 2015. Recent engagements include Ariadne auf Naxos for Minnesota Opera, The Elixir of Love for Opera Santa Barbara, Albert Herring and The Magic Flute for Shenandoah University, and Albert Herringand The turn of the screw for the Miami Music Festival. In addition to his work with such venerable operatic performers as Renée Fleming, Stephanie Blythe, Silvia McNair, Spiro Malas, Greer Grimsley, and Thomas Hampson as well as rising stars Lawrence Brownlee, Erin Morley, Kate Lindsey, Brian Jagde, Amber Wagner, and Nadine Sierra, Alan has assisted renowned opera directors Chris Alexander, Linda Brovsky, Peter Kazaras as well as Broadway veterans Susan Strohman and Sam Buntrock. A native of Mississippi, Alan holds degrees in Education, Vocal Performance, and Opera Directing from Mississippi State University, Rice University, and The University of Texas at Austin (respectively). Alan is a member of Actors' Equity Association (AEA) and the American Guild of Musical Artists (AGMA).
Tim Wallace, Scenic Designer
Tim Wallace is a scenic artist, theatrical environment, and concert tour designer. He started with San Diego Opera in 1990 working for one of the last master scenic artists, Davis West, learning traditional ways of scenery design and painting. He started his scenic career as a shop person and became the Charge Scenic Artist in 2011. He has worked on many productions seen on stage for the San Diego Opera. Tim started his design career with the local rock band Rocket From the Crypt in 1995 doing their stage backdrops and scenery. His work has been seen on stages around the world. He has designed for local theater companies as well, most notably at New Village Arts where he served as resident designer from 2009-2012. Highlights from his career have been Seven Year Itch at New Village Arts working with his (director) wife, art direction for a Rocket From the Crypt music video, interior design for play structures at KidVentures and designing the Jungle Tour set for Drake which was seen around the world. His most recent design work was for the Glenner Centers Town Square; an immersive replica of a city built in a warehouse set in the style of the late 50's to help patients suffering from Alzheimer's. This project has been featured in periodicals world-wide and is the subject of a documentary film currently in production. This is the first production he has designed for San Diego Opera. Tim is a member of IATSE Local 800 Art Directors Guild.
Denitsa Bliznakova, Costume Designer
Bulgarian born costume designer Denitsa Bliznakova is happy to return to San Diego Opera, where she previously designed the costumes for Murder in the Cathedral. Her academic background includes a BFA in Fashion Design at the Parsons School of Design in Paris and New York and an MFA in Theatre from Brandeis University. She is currently a full professor at in the School of Theatre, TV and Film at SDSU and is the Head of the M.F.A. Design and Technology program there. Her costume design work has been seen nation-wide at venues such as: Los Angeles Opera, Mark Taper Forum, Old Globe Theatre, Geffen Playhouse, La Jolla Playhouse, South Coast Rep, Denver Center for the Performing Arts, The Kennedy Center for the Performing Arts, San Jose Rep, Cleveland Playhouse, A Noise Within, Falcon Theatre, Long Wharf Theatre, and Williamstown Theatre Festival, among others. Costume design and stylist credits for other media include various music videos, short and full length films. Ms. Bliznakova has received nominations for Outstanding Costume Design: LA Stage Alliance Ovation Award and Colorado Theatre Guild Henry Award. Denitsa is a member of United Scenic Artists local 829 Union, United States Institute for Theatre Technology and Costume Society of America. Her work may be viewed atwww.Denitsa.com.
Anne E. McMills, Lighting Designer
San Diego Opera debut. Anne E. McMills' career extends across the many facets of the lighting world—from theatre (including Broadway and the West End) to television and theme parks to architectural lighting, industrials, concerts, cruise ships, award shows, dance, and opera. In addition to designing her own work, Anne has assisted many Tony award-winning Broadway designers, mounting productions in the United States, Japan, Australia, England, Scotland, France, and Germany.  Anne achieved her MFA degree in Lighting Design from Mason Gross School of the Arts at Rutgers University.  During her time there she worked at the Royal Opera House at Covent Garden and the Lyric Theatre Hammersmith in London, England, as well as the Opéra de Lyon in Lyon, France while working on her thesis.  Anne is a proud member of United Scenic Artists, Local 829 and the author of The Assistant Lighting Designer's Toolkit and 3D Printing Basics for Entertainment Design. She is also the Head of Lighting Design at San Diego State University.  For further information, visit www.annemcmillslighting.com.
Vanessa Dinning, Dialect Coach
English-born and professionally trained as an actor and a voice/dialect specialist at renowned theatre conservatories in London, Vanessa enjoys a varied career as an actor, dialect coach and director. In the UK, she worked at The Royal National Theatre, Belgrade Theatre, Shakespeare's Globe and others. In San Diego recent dialect coaching credits include: Hay Fever, The Vortex, My Fair Lady, When The Rain Stops Falling (Cygnet), My Fair Lady, Shrek, Titanic, The Little Mermaid, Newsies (Moonlight Stage Productions), All Is Calm (Bodhi Tree Concerts), The Importance of Being Earnest (also director), The 39 Steps, Sherlock Holmes' Final Adventure, Roman Holiday, King Charles III, A Man of No Importance (CPH), Cabaret and My Fair Lady(The Welk Resort Theatre), Sleuth, Outside Mullingar (also actor) and Baskerville (SRT/OTC), Billy Elliot (San Diego Musical Theatre) and Once (also actor) (Lamb's Players' Theatre).  Vanessa maintains a private studio teaching voice, dialect and singing.
Performance Schedule
Friday               December 7, 2019         7 PM
Saturday           December 8, 2018         7 PM
Sunday             December 9, 2018         2 PM
Get Connected
San Diego Opera Podcast Series
Get to know the artists and operas of the 2018-2019 Season. These insights into the singers and productions can be enjoyed by opera fans as well as those who are new to the art form. Casual and fun, this is a great way to learn about our artists and the operas they star in. Watch online at http://www.sdopera.org/Company/Education/Podcasts. These videos are also available on our YouTube Channel: http://www.youtube.com/SanDiegoOpera
San Diego Opera on Twitter
Get frequent updates about San Diego Opera and opera in general by following us on Twitter. Follow tweets from backstage during a performance and learn about special offers and contests before anyone else by following us @SDOpera.
San Diego Opera on Facebook
San Diego Opera's Facebook page offers a place for fellow opera fans to discuss performances, opera news, connect with other fans and get up-to-date information on upcoming events. Look for "San Diego Opera" at https://www.facebook.com/SanDiegoOpera/
San Diego Opera on YouTube
Now viewers can watch a large portion of San Diego Opera's programming at their convenience on YouTube. Archived versions of OperaTalk!, Stars in the Salon, Opera Spotlight, our video podcast series and much more can be found on the San Diego Opera channel at: http://www.youtube.com/SanDiegoOpera
San Diego Opera on Instagram
A picture is worth a thousand words! Take a look at what happens backstage and in the office on San Diego Opera's Instagram page. http://instagram.com/sandiegoopera
Purchasing Tickets
Subscriptions and single tickets to the 2018-2019 season are now on sale.
Single tickets start at $49 for all mainstage performances. Single tickets start at $35 for all dētour Series operas. Children prices exist, please visit www.sdopera.org or call 619.533.7000 for more information.
Senior citizen discounts of 15% are available to the Main Stage series on Tuesday and Friday subscription packages. Senior citizen discounts of 15% are available to the dētour Series on Saturday subscription packages.
Military discounts (active and retired) of 50% are available to the Main Stage series on Tuesday and Friday subscription packages. Military discounts of 50% are available to the dētour Series on Saturday subscription packages.
For information about tickets please visit www.sdopera.org or call 619.533.7000
San Diego Opera 2018-2019 Season
The Marriage of Figaro                                      Wolfgang Amadeus Mozart  October 20, 23, 26, and 28 (mat), 2018
All Is Calm: The Christmas Truce of 1914          Peter Rothstein                      December 7, 8, and 9 (mat), 2018
Rigoletto                                                             Giuseppe Verdi                     February 2, 5, 8, and 10 (mat), 2019
Three Decembers                                                Jake Heggie                          March 8, 9, 10 (mat), 2019
Carmen                                                               Georges Bizet                       March 30, April 2, 5, and 7 (mat) 2019
One Amazing Night –Stephen Powell and Stephen Costello                            May 15, 2019
San Diego Opera Mission Statement
The mission of San Diego Opera is to deliver exceptional vocal performances and exciting, accessible programs to diverse audiences, focusing on community engagement and the transformative power of live performance.
San Diego Opera Vision Statement
San Diego Opera will be recognized internationally as a leading example of adaptability, innovation and sustainability in the operatic arts, promoting diversified programming and unique performance venues with world-class and emerging talent.
San Diego Opera Core Values Statement
Through excellence in innovative programming and education, SDO provides a lasting cultural service to the community.
Our tradition of excellence in fully staged opera is augmented with new models of opera and venues. Our unique and deep commitment to the community propels us to explore ways of increasing affordability and accessibility.
Through fiscal responsibility and nimble adaptation to the changing marketplace, we protect the future of San Diego Opera.
Our educational and community involvement coupled with relevant programming will build the audience of the future.