Millions cross the border to Mexico each year in search of the best medical tourism procedures and treatments. This is no surprise given the fact that Americans and Canadians are increasingly more willing to travel abroad for medical attention. The 2013 MTA Medical Tourism Survey found almost 76 percent of patients who have an interest in medical travel are American. That means the majority of medical tourists who look for a viable healthcare option are neighbors of Mexico.
Because of the low cost of healthcare, India has been among the leaders in medical tourism, a position Thailand also holds firmly today. Across the globe, patients travel to Asia for medical attention at incredible savings. The trips to Asia are still numerous, but Mexico also has a high demand for medical tourism and is perceived as one of the best health tourism destinations worldwide.
‍
Mexico caters to medical travelers from around the globe, especially from the United States and Canada, providing equal or even higher quality treatments to patients than what they would find at home, and at a significantly lower cost. In Mexico, top medical tourism procedures include dental, plastic surgery, bariatric surgery, and orthopedics. However, medical tourism in Mexico attracts patients for fertility treatments, oncology procedures, and wellness services, among others as well.
‍
Mexico ranks high in quality and low in cost for medical tourism in comparison to other countries. Furthermore, savings for international patients in Mexico increases by 70 percent, varying by treatment and site. Located just south of the U.S. border, Mexico represents the most logical step for Americans and Canadians toward better health. The convenient location
‍
The 2013 MTA Medical Tourism Survey found almost 76 percent of patients who have an interest in medical travel are American.
enables even more people to fly or drive to Mexico. However, as the 14th biggest country in the world, Mexico has many destinations available for any medical tourist — from beach retreats, magical towns or large metropolitan areas.
‍
Baja, California
Also known as just Baja, this Mexican entity borders California and Arizona. Baja is comprised of five municipalities with an interesting mix of climate, flora and fauna, and demographics. Visitors are often surprised by the drastic changes in landscape and weather — from deserts to forests and from beaches to high mountain ranges — as they move from one end of the state to the other. Meanwhile, people from all over the world choose Baja as their home, either to flourish or retire.
The majority of the population is Mexican, with an interesting blend of both northern and southern nationals. There is also a rather substantial segment from Central and South America who enrich cultural diversity in Baja. Many American expatriates live in Baja to take advantage of affordable real estate and a proximity to the United States.
Baja's location enables visitors to take domestic flights to Yuma, Ariz., or San Diego, Calif., which are less expensive than flying international to other Mexican destinations. These assorted demographics and the current strong economy shape Baja as the perfect entryway to Mexico.
Mexicali: City that Captured the Sun
Deriving its name from Mexico and California, Mexicali is the capital of the state and the warmest land of Baja, where the arid valley reaches record temperatures during summer and desert landscape enchants world travelers who discover the area's unique charm. In addition, the people of Mexicali are known as warm and open to visitors.
This very specific characteristic, in addition to highly qualified medical professionals, represent the biggest strengths of Mexicali as a top medical tourism destination. One of the best kept hidden treasures of Mexicali is the large Chinese community within the city, which gives Mexicali a unique nuance in culture and in food, too.
A favorite Mexicali cuisine is a Mexican version of Chinese food. Like this, there are several things to discover in the warm northeast corner of Baja.
‍
Los Algodones: Dental Mecca
Surrounded by the American states of California and Arizona, Los Algodones is the northern-most vertex of Baja. People from across the United States and Canada recognize this friendly town as the dental capital of medical tourism. With the ambiance of a small and safe town, the colorful streets welcome tourists year-round.
Winter is peak season and Los Algodones caters dental services to snowbirds from the most northerly states of the United States and all across Canada who settled in the nearby towns, such as Yuma, Ariz., and Winterhaven, Calif. Los Algodones is devoted to providing the best dental services for international patients and creating an ideal medical tourism destination.
‍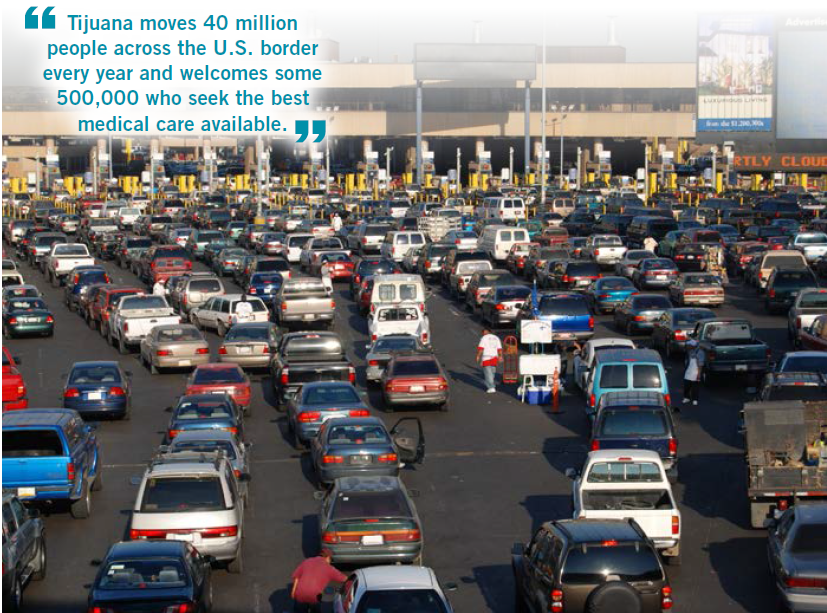 Tijuana: Grand Gateway to Mexico
As the world's busiest border crossing, Tijuana is one of the most recognizable cities in Mexico. Characterized for being a modern, dynamic city filled with history, museums, excellent restaurants and hotels, Tijuana also hosts some of the best hospitals in Mexico. As the biggest city in Baja, Tijuana offers an endless list of activities that tourists can enjoy both before and after a medical procedure.
This great gateway to Mexico moves 40 million people across the U.S. border every year and welcomes nearly 500,000, seeking the best medical care available. That is why the city has prepared to offer health services through certified physicians and top of the line equipment, some of which are certified by the Joint Commission International (JCI) and by Mexican authorities.
‍
Ensenada: Land of Mexican Wines

Located north on the Mexican Pacific coast, this shoreline inlet attracts tourists of all types. Ensenada is the most important sea port of Baja and each week receives cruise ships filled with enthusiastic tourists from all over the world.
Activities in this coastal city are so varied that they match all types of preferences and budgets. From excellent culinary options and the famous wine route, to aquatic sports or golf resorts, this city constitutes a first-class tourism destination.
Because of the large tourism activities, Ensenada is able to cater for every need including health tourism. There are hospitals in the city that have advanced technology and most physicians have had some education in the United States as well as experience with foreign patients from different parts of the world.
In addition, wellness tourism is very strong in Ensenada due to the relaxed environment and available options for retreat and rejuvenation.
‍
In the end, medical tourism strives to give people better healthcare options. Baja's government has designed a special lane for medical tourists who are driving across the border back to the United States.
This medical lane was built for exclusive use by patients who receive a medical pass from the doctors, dentists, or hospitals registered in the program.
‍
Although international patients travel to have a certain medical procedure, when they are visiting Baja they can still visit historical sites and shop for souvenirs before or after the procedure.
Of course, medical institutions and physicians address international patients and make them understand the "do's and don'ts" prior to the procedure and during the recovery process.
‍
Baja is unique, exciting and authentic, and truly worthy of being one of the best destinations for medical tourism. Promoters have an opportunity to offer international patients the best healthcare at a location they will love.
Mexico will shine even brighter on the medical tourism stage as efforts continue to meet the rising needs of international patients. As one of the most economically and humanly developed states, Baja will boost Mexico's position as a top destination for health tourism.